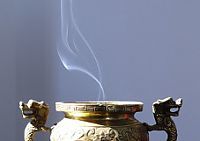 Date:
Tuesday 4 February 2020 (19:30 -20:45)

Contact person : John Seex
Lojong uses the Kadampa slogans from Atisha, eg, "Be grateful to everyone' to train our mind in relative bodhicitta, open-heartedness and compassion. The heart of the course is the practice of Tonglen, exchanging our self for others.
The course will run for 10 weeks and starts on November 19. Each week we will contemplate a slogan and share teachings on this.
Every Tuesday 7:30-9pm Chalford Village Hall on A419 next to Christchurch, GL6 8PP. Suggested donation £6 per class or (£40 for all 10) or whatever you can afford. Any enquiries contact John Seex [email protected], 0797693848.