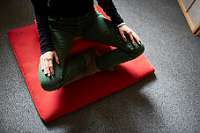 Date:
Wednesday 27 May 2020 (19:15 -21:00)

Location:
17 Lower Redland Road, Redland
This evening will include sitting and walking meditation, and there will be discussion on a reading from a talk by Acharaya Gaylon Ferguson entitled "Exploring Habitual Patterns."
Our doors open at 7pm for socialising with refreshments.
Meditation instruction is available. Sitting practice begins at 7.15 pm and the evening finishes at 9.00 pm.
A voluntary donation of £6 (or more or less) will enable us to maintain the upkeep or our centre, provide weekly open house practices and regular programme events. Your generosity will be appreciated.