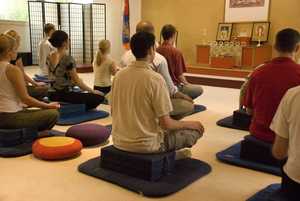 Date:
Sunday 5 April 2020 (10:00 -11:30)

Location:
17 Lower Redland Road, Redland
A morning of guided group meditation, reading and discussion via zoom for everyone from 10am to 11.30pm. Open to beginners and those with more experience.
Due to the restrictions imposed during the Covid-19 crisis, this open house event will be offered virtually via zoom (please see below for details).
Our retreat days are an opportunity for everyone including community members and those new to the centre to practice a guided Buddhist meditation, listen to a reading and have a discussion. The retreat will be shorter than usual and just take place during the morning from 10am 11.30pm.
To join this retreat, you need to click on the following link:
Zoom: https://zoom.us/j/7727482977
There is no charge for downloading zoom or for joining the meeting, however we are grateful for a donation to contribute towards our centre in Bristol's running costs.
Our bank account details are as follows:
Sort Code: 16-58-10
Account No: 20788193