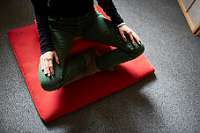 DATE:
Wednesday 30 September 2020 (19:30 -20:30)

LOCATION:
17 Lower Redland Road, Redland
COORDINATOR_FEMALE :
Irene Cleghorn
CONTACT : Irene Cleghorn
This evening will include sitting meditation a reading and discussion. Individual meditation instruction is offered for people new to meditation.
This one hour session of group practice is an opportunity for us to gather together for community meditation practice and all are welcome. The session will consist of a short guided meditation and movement session, a reading and discussion.
To join this event, you will need register.
Once you register, you will receive an automated response email with details of how to join in.
We look forward to seeing you.