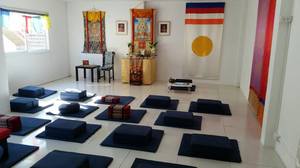 Date:
Wednesday 28 July 2021 (07:30 -21:00)

Location:
Bristol and S.W. U.K. Shambhala Meditation Group
Coordinator :
Peter Bailie
Our open evening session consisting of meditation practice, readings, discussions, etc. Everyone welcome, either at 17 Lower Redland Rd, or online on Zoom
This regular Wednesday evening session, will consist of meditation and some sort of activity - reading, discussion, talk, movement, etc.
Meditation instruction will be offered to people new to meditation.
You can attend at the centre or online via Zoom. If you plan to attend via Zoom, no need to register, just click here at the start of the session. The passcode is 800525
Covid-19 -If you come to the centre you will need to wear a mask for the session. We are also not allowed to offer refreshment but you can bring a drink with you. You will be required to provide your contact details for test and trace, and have your temperature taken and gel your hands!
Due to social distancing requirements we can only accommodate a limited number of participants at the centre- this will be on a first come first served basis, so please come early, as sadly, if we are full, we'd be unable to accommodate you.