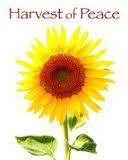 Date:
Saturday 18 September 2021 (10:15 -13:00)

Location:
126 Hampton Road, Redland
Harvest of Peace is a traditional time for Shambhala centers and groups to host social occasions and other kinds of events, to practice together and enjoy the fun, conversation and richness of Shambhala community.
Harvest of Peace is one of 4 seasonal Nyida Days ("Nyi" = Sun, "da" = Moon) celebrations in Shambhala that occur on or around solstice and equinox days. These holidays are important times for us to join together as a community to practice, celebrate and enjoy each other's company.
During our session we will practice the Shambhala Sadhana together followed by a short group activity on "What does a Harvest of Peace mean for you?" Afterwards we will gather for lunch either a picnic on the Downs or a bite to eat somewhere else if the weather isn't inviting.
Traditionally, The Harvest of Peace is a time when we do fundraising for our Shambhala group. This year we are asking people to bring an offering for a local foodbank. If you would like to offer something, please bring only tinned, dried or bottled foods. If you are joining via Zoom, please take your donations to a supermarket near you.
You are welcome to attend either at the Community Room, Friends Meeting House, 126 Hampton Rd, Bristol BS6 6 JE or you can attend for Zoom, details below.
Please click here to join via Zoom passcode 889483
No need to register, just turn up at 10.15 am to start at 10.30 am