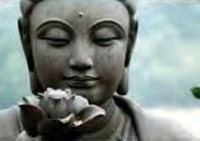 Date:
Saturday 21 May 2022 (10:15 -13:00)

Location:
126 Hampton Road, Redland
Coordinator :
Irene Cleghorn
All welcome to join us for this morning of meditation, talks, exercises and discussion.
Taking Refuge not only refers to the formal ceremony of becoming a Buddhist, it is also a key Buddhist practice in its own right.

And despite being associated with the beginning of the Buddhist path it remains a fundamental element throughout the whole path, encompassing each of the three yanas or 'vehicles' of hinayana, mahayana and vajrayana.

In fact advanced practices such as vajrayana sadhanas invariably begin with taking refuge.
But what are we taking refuge in, or for that matter, what are we taking refuge from? Ultimately, what can we rely upon?

These questions will be explored with meditation, talks, exercises and discussion.
Meditation instruction is offered for new meditators.
This event will be led by Shastri Merlin Cox. Merlin encountered the Vidyadhara Chögyam Trungpa Rinpoche in 1977 becoming his student until the Vidhadhara's death in 1987 and subsequently becoming a student of his son Sakyong Mipham Rinpoche. He was Director of the London Shambhala Meditation Centre for seven years and was appointed to the role of Shastri (senior teacher) in 2017. He was employed by Amnesty International as a software engineer for fifteen years and now works on a self-employed basis. He lives with his wife in London.
Meditation instruction is offered for new meditators.
You can attend in person at the Community Room, Friends Meeting House, 126 Hampton Rd, Redland, BS6 6JE.
Please arrive at 10.15 am to start promptly at 10.30 am.
If attending in person, please ensure you ring the correct bell, marked "Community Room"
If you are attending via Zoom, please click here at the start of the event.
The passcode is 889483 if you are asked for it.
OFFERINGS
It is traditional to make an offering to express ones's appreciation for the opportunity to practice, and receive dharma teachings. Even hearing a reading, contemplating, and discussing, creates a situation for learning, understanding and insights to arise. By making an offering, you also help to sustain an environment, either physical or virtual, from which others may benefit. If you feel inspired to do this, around £10 -£15 is suggested, but please offer whatever you like. In order to make an offering, please click the "Registration" button - you will be sent our bank details.
As it says in one practice, "Generosity is the virtue that produces peace" , and however large or small it is always valued.