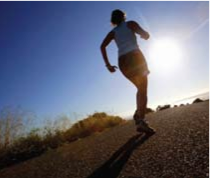 DATE:
Wednesday 12 August 2015 (19:30 -21:30)

LOCATION:
17 Lower Redland Road, Redland
An experiential evening exploring running and meditation
This class is for new, casual or very experienced runners. It is about running and the mind that runs! There will be an introduction, guided mindfulness/ awareness meditation and instruction on how this approach can be incorporated into running, no matter what running style you adopt.
You will be able to take what you have learnt and apply it while running on Clifton Down which will be followed by a debrief. You are then invited to go for a drink at a local pub or if you prefer to return home for a welcome shower!
John Seex is a psychotherapist, organisational consultant and part-time runner! He has also been practising and teaching meditation for over 20 years and is a student in the Shambhala tradition.
£8 non members, £5 members