We will be meeting in person on Thursday evenings and the third Saturday of the month in our new venue: The Community Room, Friends Meeting House, 126 Hampton Road, Redland, Bristol, BS6 6JE from September 2021
For those of you that cannot attend, you will be able to join via the Zoom link.
Full information can be found by clicking on the programmes below.  
If you are joining online, please log in 5-10 minutes beforehand.  The gong will sound when it's time to mute and begin sitting.
One on one meditation instruction is available for new and experienced meditators.  Please ask!
NO PHOTO
Date: Thursday 30 March 2023 19:30 20:45
Meditation practice, readings, discussions, etc. Everyone welcome, either at Friends Meeting House,126 Hampton Road, Redland BS6 6JE or online on Zoom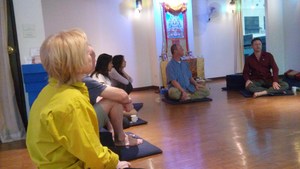 Date: Saturday 15 April 2023 10:15 13:00
An opportunity for a longer session. Activities include sitting meditation and an activity such as a talk with discussion - topic to be announced.