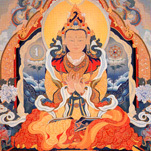 Date:
Wednesday 24 April 2019 (19:00 -21:00)

Location:
17 Lower Redland Road, Redland
Price

:
£
£8 (£6 members).
This is part of our series of monthly talks. During this talk we will look at the process of and reason for chanting and discover more about the various lineage holders who feature in this particular chant.
If you have visited the Bristol centre you will no doubt have heard or even chanted the Supplication to the Shambhala Lineage and you may well have wondered what is a Primordial Rigden, who were Prahevajra and Shri Simha and why is Padmasambhava called the lotus born. We we explore these figures and their relevance to our path during this talk.

This talk will be given by Irene Cleghorn.
Please arrive for 7pm for a 7.15pm start.
£8 non -members.
£6 members.