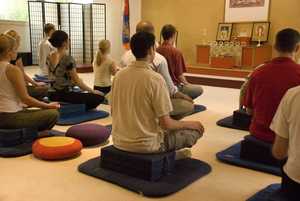 Date:
Sunday 12 January 2020 (10:00 -12:30)

Location:
17 Lower Redland Road, Redland
A day of meditation at the Shambhala Centre for everyone from 10am to 4pm. Open to beginners and those with more experience. Includes talk and practice led by Acharya Gaylon Ferguson. Meditation instruction available.
These second Sunday of the month days are an opportunity for community members and those new to the centre to come togther and practice meditation for the morning from 10am 12.30pm and for the afternoon 1.30pm to 4pm, or for the whole day.
During this afternoon session, we will introduce and present two video recordings of Acharya Gaylon Ferguson on the topic of working with our habitual patterns entitled:
"Allowing Yourself to Feel All the Feelings that Come with Negative Patterns" followed by a practice led by the Acharya entitled: "Welcoming Exercise Practice"
There will be an opportunity for discussion afterwards.
Tea, coffee and biscuits are provided. Lunch can be brought or bought and eaten at the centre - we have plates and cutlery but no microwave or cooking facilities.
Recommended donation is £10 for the whole day, £5 for a morning or afternoon session.