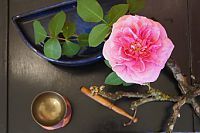 Date:
Wednesday 26 June 2019 (19:15 -21:00)

Location:
17 Lower Redland Road, Redland
This event is part of out monthly programme where each month a talk is offered by a teacher within Shambhala. This month's talk is by Rona Wyatt and is on the Lojong slogans.
This talk will examine Lojong slogan 16, one of 6 slogans, focussing on how everyday experiences are essential to the buddhist path, for cultivating compassion, and for developing the paramita of patience - the foundation for non-aggression.
Lojong, a mahayana practice (aka cultivating compassion through training the mind), uses a series of contemplative slogans and teachings to help us enliven our everyday experiences with meditative awareness, and to bring our everyday experiences into our meditation practice.
Please arrrive by 7.15pm. Tea and coffee will be available from 7pm.
£8 - non-members.
£6 members.