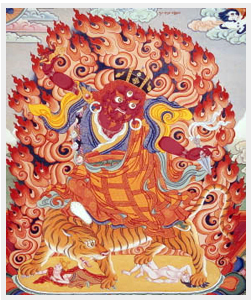 Date:
Sunday 17 November 2019 (09:30 -17:00)

Location:
17 Lower Redland Road, Redland
Teacher :
Shastri John Seex
Coordinator :
Irene Cleghorn
Contact person : Irene Cleghorn
Price

:
£
£35 full price £25 early bird
This beautiful poetic sadhana,written by Chogyam Trungpa Rinpoche in response to the "spiritual materialism" that he saw in both Tibet and the west bypasses conceptual mind, communicating something directly about the nature of reality and our experience.
In addition to practicing this Sadhana text, the day will offer an opportunity to reflect on how it speaks to us at this time in history and to share our experiences and insights with others.
By doing this practice we cut through conceptual mind
and experience some notion of emptiness. In these
difficult times both in the world and in Shambhala it is
helpful to find a bigger view and see what is happening
in a bigger context and over a longer timespan than just
the present drama: this practice helps us to see this.
Please join me in doing this practice and hearing more
about the insights it shares with us.
Some familiarity with the sadhana would be very helpful.
Price: £35, or £25 early bird if you register and pay by 27th October