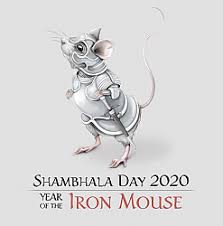 Date:
Sunday 23 February 2020 (09:30 -19:00)

Location:
17 Lower Redland Road, Redland
Shambhala Day marks the beginning of the New Year, and represents one of the most important traditions of Shambhala Buddhism. Based on the traditional Tibetan New Year's celebration of Losar, the day is calculated according to the Tibetan lunar calendar,
You are welcome to join us for some or all of the day. Our Schedule of events for the day is as follows:
9.30 am Coffee/tea
10.00 108 gongs
10.10 Opening chants
10.20 Sitting
10.45 Elixir of Life
11.30 Lhasang ceremony
11.45 Finish
Free activities – walk on Downs/visit museum/ lunch
2.00 Gather at centre
2.10 Theory U Session with John Seex and Colin Tracy (open to members, ex members, friends of Shambhala and by invitation to non members only):
"Our capacity to pay attention co-shapes the world. What prevents us from attending to situations more effectively is that we aren't fully aware of that interior condition from which our attention and actions originate - our personal and collective blind spots. Theory U enables us, personally and in organisations to shift awareness, connect with the highest future possibilities, and strengthen the capacity to co-shape the future. We will offer contemplations and exercises that will facilitate the co-shaping of the future of our Sangha."
4.10 Tea break - everyone welcome to join us for the celebrations as follows:
4.30 Shambhala Sadhana
5.30 Food/drink/celebration:
Please bring food/drink ready prepared to put out so that we can begin the celebration promptly
7.00 Finish