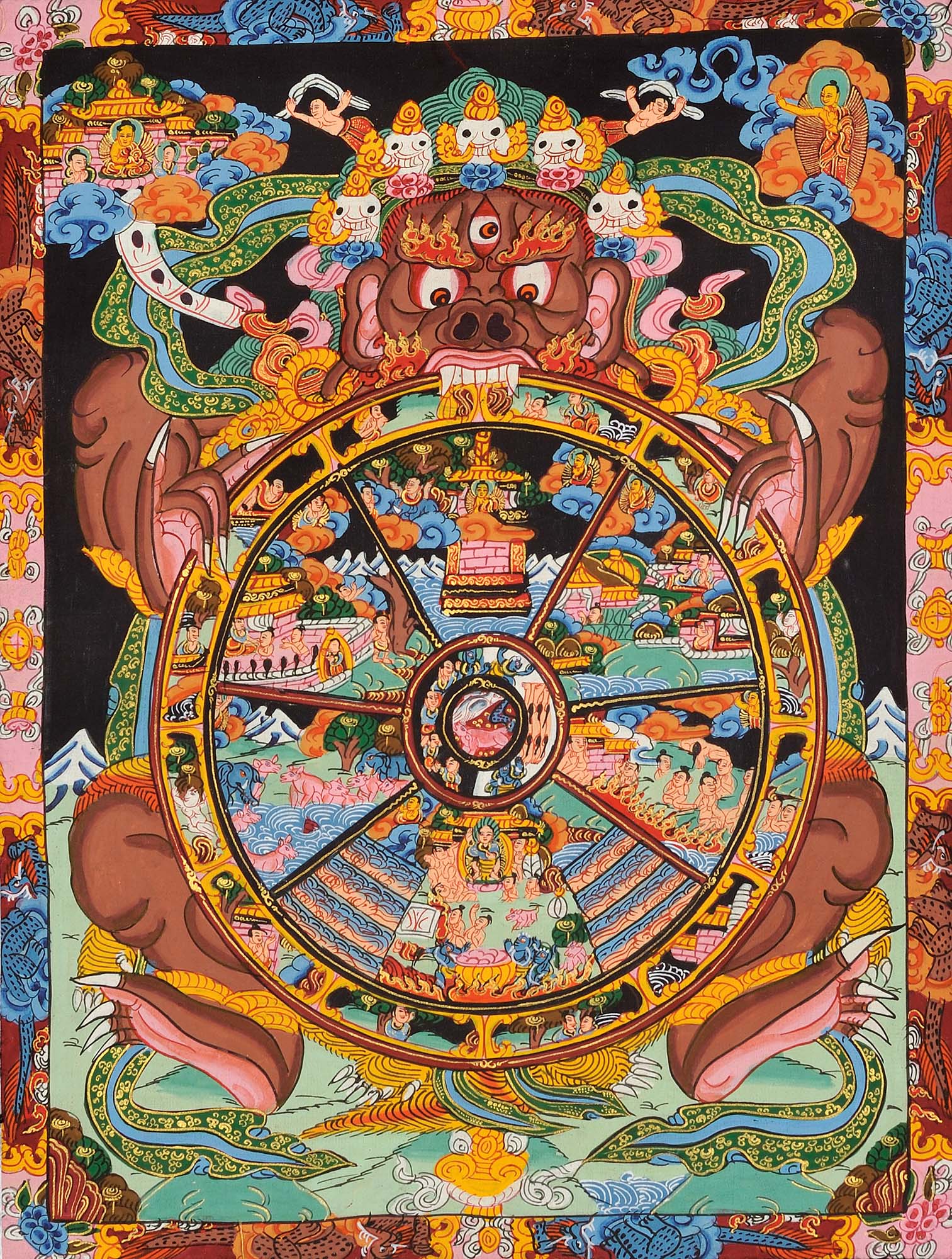 Date:
Sunday 3 May 2020 (09:45 -17:00)

Location:
17 Lower Redland Road, Redland
Teachers :
Sue Blackwell & Irene Cleghorn & Christine Jeffcutt
Contact person : Irene Cleghorn
We are all creatures of habit with our own addictions and it can seem as though we are going around in circles with no escape. The Wheel of Life is a pictorial template which explains our predicament and what we need to do to get off of the wheel.
Full price: £40. Early bird price: £30. To benefit from the early bird price, we should have received your early bird payment by no later than 19 April. Payment and zoom logon details will be provided by auto reponse on completion of online registration
Tibetan iconography originated around the 4th century C.E. depicting a wide range of topics. Its imagery is rich in symbolism which represents a whole variety of Buddhist teachings or dharmas. Being pictorial these images can communicate to us in a very direct manner that conveys meaning to us without spoken and written language. At the same time when the images are studied and the symbolism revealed, they also offer a wealth of understanding of which we can be reminded when seeing the images again or by simply reflecting on them.
In this way one picture can embody a whole system of teaching.
The Buddhist Wheel of Life gives us a template which describes Samsara - the way we are all subject to the ups and downs and roundabouts of our minds on a daily basis. We will see how we tend to jump from one state of mind to another sometimes in a single moment, and how this keeps us from progressing spiritually as we give in without thinking to our patterns. At any given moment however, we can choose to either be victims or choose to just recognise and work with where we find ourselves moment to moment. It can be harder than we imagine.
This one day workshop will be presented in 3 parts designed to help us to recognise and explore our own habitual patterns and addictions by looking at the Buddhist teachings on the Wheel of Life.
Please Register to get information about how to join the day.