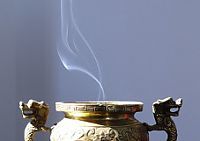 Date:
Tuesday 24 March 2020 (19:30 -20:30)

Join us via zoom for an hour of group practice to consist of guided meditation a reading and discussion. Click on pic for info how to join the session. All welcome.
To join this evening, you need to click on the following link:
Zoom: https://zoom.us/j/7727482977
There is no charge for downloading zoom or for joining the meeting, however we are grateful for a donation to contribute towards our centre in Bristol's running costs.
Our bank account details are as follows:
Sort Code: 16-58-10
Account No: 20788193