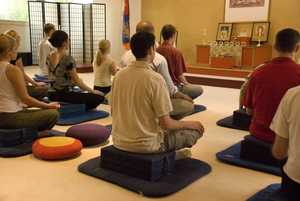 Date:
Sunday 9 August 2020 (10:00 -11:30)

Location:
17 Lower Redland Road, Redland
Contact person : Irene Cleghorn
Join us via zoom for two and half hours of group practice to consist of meditation practice a reading and discussion. Longer periods of meditation allow our minds and bodies to settle and refresh. All welcome.
You can join us by zoom (details on registration).
This one and half hour session of group practice is an opportunity for us to gather together for community for a longer period for meditation practice and all are welcome. The session will consist of a periods of meditation practice, a reading and discussion and an opportunity to stretch!
Meditation instruction is available for all.
For zoom details, please register.