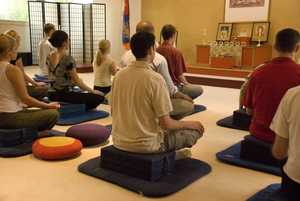 Date:
Sunday 11 October 2020 (10:00 -13:00)
Sunday 8 November 2020 (10:00 -13:00)
Sunday 13 December 2020 (10:00 -13:00)

Location:
17 Lower Redland Road, Redland
Contact person : Irene Cleghorn
Join us at 17 Lower Redland Rd, Bristol or via zoom for three hours or one and half hours respectively for group meditation practice. Longer periods of meditation allow our minds and bodies to settle and refresh. All welcome.
This three hour (at the centre) or one and half hour (via Zoom) session of group practice is an opportunity for us to gather together for community for a longer period for meditation practice and all are welcome. The session will consist of periods of meditation practice, with short breaks to do walking meditation or shamatha yoga or just stretching, depending on your available space.
We would love you to come to the centre in Bristol. We have to abide by the Covid-19 guidelines so you will be required to wear a mask. We are not allowed to serve drinks, but you can bring one with you to drink on your cushion. You will also be required to provide your contact details for test and trace. We have to socially distance, so we can only accommodate up to 6 participants - this is highly unlikely be a problem, but will be on a first come, first serve basis.
If you can't get to the centre and would like to partipate you are welcome to join us via Zoom. In this case we think a shortened session would be preferable, so this would be from 10am - 11.30 am. You will need to register in that case so that you can be sent the Zoom link and password,
Meditation instruction is available if you are new to meditation.