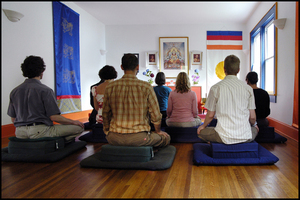 Date:
Wednesday 17 March 2021 (19:30 -21:00)

Location:
17 Lower Redland Road, Redland
Coordinator :
Peter Bailie
Our open evening session consisting of meditation practice, readings, discussions, etc. Everyone welcome, either at 17 Lower Redland Rd, or online on Zoom
This regular Wednesday evening session, will consist of meditation, some sort of event - reading, discussion, talk, movement, etc.
Meditation instruction will be offered to people new to meditation.
Due to the current Covid situation, all sessions will be online until further notice.
No need to register, just click here at the start of the session. The passcode is 800525