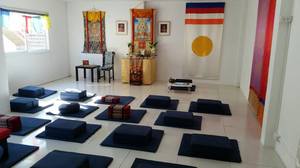 Date:
Sunday 11 April 2021 (10:00 -11:30)

Location:
17 Lower Redland Road, Redland
Coordinator :
Peter Bailie
Contact person : Sue Blackwell
Join us for this 1 1/2-hour group meditation practice. Longer periods of meditation allow our minds and bodies to settle and refresh. All welcome.
This one and half hour session of group practice is an opportunity for us to gather together as a community for a longer period of meditation practice and all are welcome. The session will consist of periods of meditation practice, with short breaks to do shamatha yoga or just stretching.
There is no need to register.
The passcode is 043997
To join the meeting via Zoom please click here
Meditation instruction is available if you are new to meditation.