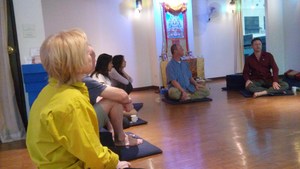 Date:
Saturday 17 June 2023 (10:30 -13:00)

Location:
126 Hampton Road, Redland
John Seex is already known to many of us and we are delighted that he will teach in person on this next Paramita of Meditation.
This event is in person and online, the Zoom link can be found at the bottom of the page
When we are fully ourselves, we see that our lives are fragile and that we can be tender with our fragile lives. When we are tender, our lives do not become less fragile. Rather, through our deep acceptance of life's fragility, the door to an appropriate response opens. This is the door to the activity of wisdom. The fifth paramita dyana, meditation, invites us to trust in our self-existing wakefulness: we do not have to watch or check if it is happening, we simply trust our engagement with life as it is and an appropriate response arises.
John is a psychotherapist, a psychotherapy trainer on the faculty of Karuna Training and has been practicing, studying and teaching the dharma in the Shambhala tradition for 30 years.
Although John will be teaching in person, it is still possible to attend the event via Zoom using the link provided.
DONATION:
A donation of £8 is suggested for this session. Please email [email protected] for bank details if you do not already have these.
No need to register for this event, just turn up at 126 Hampton Road, or click here to join via Zoom.